SUJÁN Rajmahal Palace, now transformed and possibly even surpassing its former glory, is one of India's most stylish boutique hotels. Moving away from the more expected 'heritage décor', it has contemporary, colourful, flamboyant interiors.
Stunning wallpapers inspired by royal palace tradition, ceilings and furnishings give an instant 'wow' factor wherever you wander. With a wonderfully central location, expansive grounds and beautiful gardens – ideal for parties – this little gem is a fabulous addition to the top end of the Jaipur hotel scene.
Redolent with history, and having been visited by the great and the good, it was originally built in 1729 by the Maharaja of Jaipur, and in 1821 became the official residence of the British Resident. In 1958 HH Maharaja Sawai Man Singh II then chose it as his private residence.
Now re-born and run by SUJÁN in their inimitable style, it has re-opened its majestic doors to guests and is replete with a stunning original marble staircase, intricate chandeliers and mirrored ceilings, not to mention walls adorned with some of the most beautiful wallpaper to be seen – almost like art in itself, it makes you want to stroke it!
The combination of traditional royal motifs, classic architecture and the designer's modern sensibility has culminated in a colour palette of soft pastels and an eclectic sense of style. The drawing room demonstrates opulence at its best with rich, sensuous fabrics, family photographs and unique artefacts.
The various dining rooms and bar contrast dramatically and have stunning, bright colour themes that simply make you smile. Sweet smelling flower arrangements greet you throughout and the gardens and pool are equally as pretty and easy on the eye, both by day and by night.
With the feel of a grand country home away home, it's intimate and cosy. There are just 13 spacious rooms and suites, including two gorgeous Royal Apartments which, just as they once were, really are fit for a king, it retains the intimacy and exclusivity for which it has always been known.
The suites all vary in design and décor and each is beautiful in different ways, with either pastel colours, more 'male' colours or subtly fun and colourful. All are exquisite and there's a suite to suit all tastes. Nothing is left to chance here, with the eye for detail and the 'finish' of everything being exemplary.
Whether you stay here to explore Jaipur, to enjoy the excellent SUJÁN Spa, to dine on superb cuisine (Relais & Chateaux excellence and deliciousness abound here) at any of the stunning and varied restaurants or in your private tented pavilion in the gardens, you will come away with memories of excellence and perfection. SUJÁN Rajmahal Palace offers a level of sophistication and style rarely found.
Eco / environmental / responsible tourism policy
SUJÁN are dedicated to preserving and protecting the Indian wilderness for future generations. Their award winning safari and hospitality experiences allow them to develop and support projects to protect land and existing wildlife populations along with supporting the local communities where they operate in Rajasthan. These commitments have been at the forefront of their operations for over 40 years and will continue to remain the key focus for The SUJÁN Family always.
Jaisal and Anjali have created luxury travel experiences as a catalyst for conservation. Sustainable tourism, operating in an environmentally conscious way at every level is crucial to their conservation efforts and success, alongside protecting the wilderness & wildlife in India and working with the local communities to ensure that they not only benefit from the SUJÁN properties existing but also thrive because of them.
For every guest who chooses to stay at a SUJÁN included in their per night rate is a 'Conservation Contribution' This directly goes towards helping fund the conservation activities and community development initiatives in the local area. The teams at SUJÁN have always encouraged their guests to experience reality, whether it is being eyeball to eyeball with wildlife or taking time out to observe the lives of the local communities.
Guests are encouraged to take the time to meet the conservation partners and see some of the SUJÁN projects themselves to gain a better understanding of the work the SUJÁN Family do to conserve species and spaces in the areas they are based in. Every guest who visits a SUJÁN is assured of leaving better informed about conservation, wildlife, man-animal relationships and the cultures and traditions of their surroundings.
This happens naturally through spending time with the rangers, guides and the teams at properties. This aim to share their world and inform their guests about issues that matter are at the very heart of SUJÁN's conservation efforts and allows guests to truly understand how by staying with SUJÁN they are directly making a contribution.
Party Moments
Possibly one of the best party venues around. Huge gardens in the heart of Jaipur make it an ideal venue, not to mention the style and finesse with which Sujan arrange things. Glorious sitting rooms, dining rooms, terraces and poolside areas also provide ideal places to wine, dine and party. It's small size makes it ideal for a medium sized group takeover but the expansive grounds allow for a much larger party, inviting non-residents in to play. Varied local entertainment possible.
reservations
For reservations please contact your tour operator, your local travel agent,
or email or contact the hotel.
+91 11 4617 2700
must do
Have a private, candlelit dinner in the garden – impossibly romantic!
Access
By air to Jaipur from Delhi, Jodhpur, Udaipur, Bombay and Calcutta.
By train to Jaipur from Delhi, Bikaner, Jodhpur, Ajmer, Sawai Madhopur and Bombay.
By road from Delhi, Agra, Ajmer, Ranthambore and Shekavati.
downloads
Find us on Google Maps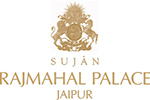 Reach us by Road